View of Vourvourou
and islands of Diaporos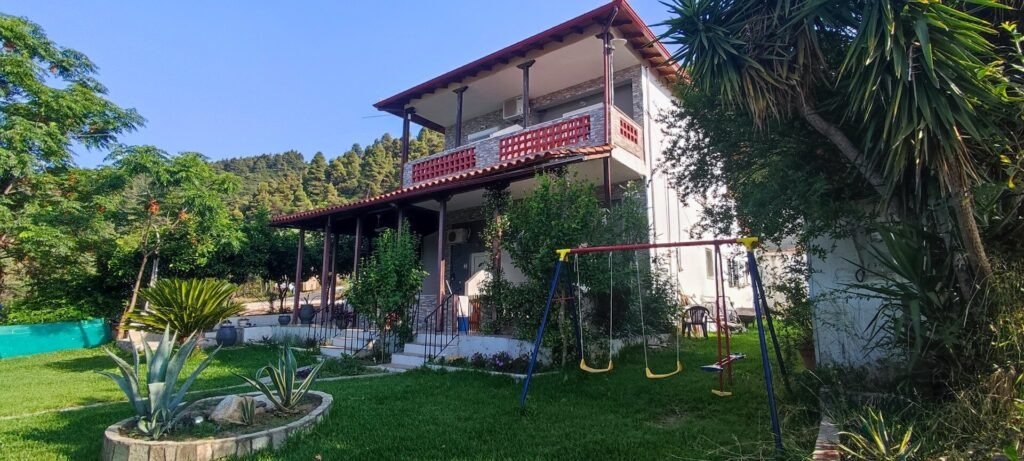 About the hosts: Mr. Asterios and his family have created a "home away from home" for you, and will go out of their way to make you feel welcome, cover your needs and make sure you have an unforgettable stay at Villa Dallas.
Location: Vourvourou is a seaside village located on the peninsula of Sithonia in Halkidiki and is 100 km from Macedonia Airport in Thessaloniki. It is one of the most popular summer destinations of Halkidiki.
What to do: The house is just 400 meters or 5 minutes walking distance from the sea. Karydi beach with crystal clear waters and pine trees that almost touch the sea, offering shade to the swimmers, is only 5 minutes away by car. At a short distance from the coast, there is a complex of islands, with Diaporo being the most important and a great one-day excursion! Agios Nikolaos is a traditional village, only 14 km from Vourvourou, where you can find anything you may need. The house is situated just at the foot of the mountain Itamos or "Dragoudeli" as the locals call it. It is covered in pine trees and it is offered for walking or cycling routes
About Us
Villa Dallas is a family run business of four-holiday apartments offering self-catering accommodation. The apartments provide all the necessary facilities to feel at home, including a fully equipped kitchen, TV,  air-condition and free wi-fi to all areas. There is also a washing machine in the common areas to use for free. All apartments have private balcony or veranda, from where you can enjoy endless views to Vourvourou bay. The house is surrounded by a beautiful garden, with a playground for the children. Also, a barbeque area and kitchenette are at your disposal! Parking space is provided too. This is an ideal spot for peaceful relaxation and also the ideal base for exploring the region of Sithonia peninsula.